CHAKABOOM Instructor Training – Bangkok THAILAND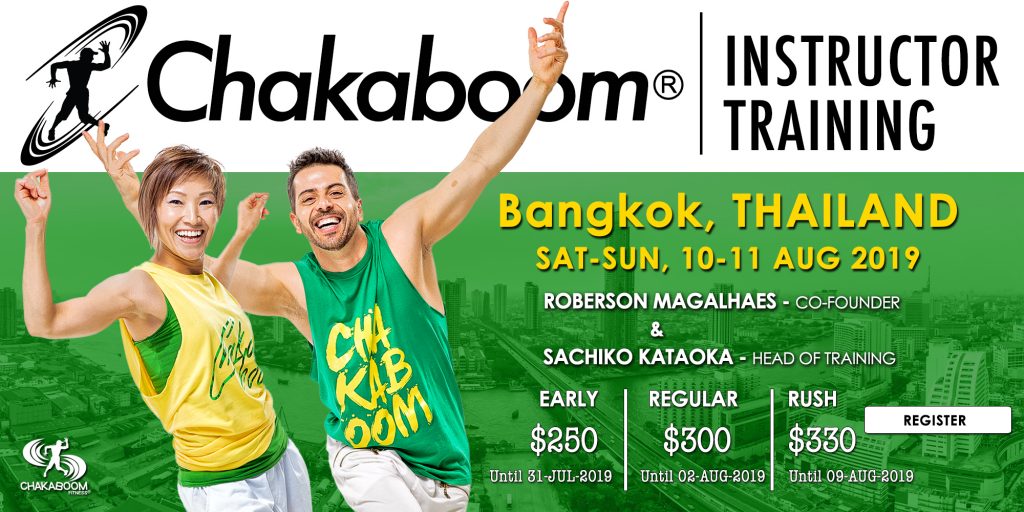 Event Details:
Bangkok, Thailand
Sat- Sun, 10-11 Aug 2019
Day 1 (10-Aug-2019): Start at 09:00, end at 17:00
Day 2 (11-Aug-2019): Start at 09:00, end at 17:00
K Studio Training Center
56 Prasertmanukit Road
Jorakhaebua Ladprao, Thailand 10230
+66892352430
EVENT DESCRIPTION:
Are you ready to live your passion and share it with others? Do you want to help others BE FIT, BE HAPPY® while you do the same? Join CHAKABOOM FITNESS® as we bring excellence, quality, originality, and fun to fitness.
Chakaboom®: The Optimal Dance Fitness Experience is a high-energy group fitness program influenced by the rhythms and cultures of countries all around the world and designed for people of all fitness levels.
Chakaboom® incorporates various styles of dance and music into an explosive group fitness experience, providing a full body workout. This class will motivate, challenge, and inspire participants, leaving then feeling energized and accomplished and wanting to be their best in their overall health and fitness.
As a Chakaboom® licensed instructor, you will be trained by the best in the field and gain the knowledge and skills necessary to teach the Chakaboom® program with confidence:
Motivate, inspire, and change lives with CHAKABOOM FITNESS®!
Learn the style, innovation, and magic that is the Chakaboom® Program!
Be a part of a team committed to helping you reach your goals and be successful.
Earn 6 Continuing Education Units (CEU) from the Aerobic and Fitness Association of America (AFAA).
Earn 0.6 Continuing Education Units (CEU) from the National Academy of Sports Medicine (NASM).
The Chakaboom® Basic Instructor Training is a 2-day training carefully designed for anybody and everybody, regardless of fitness or dance background.
Training Location:
K Studio Training Center
56 Prasertmanukit Road
Jorakhaebua Ladprao, Bangkok, Thailand 10230
+66892352430
Contact Person:
Kero Natthapong Champachan
kero.natthapong@gmail.com
+66892352430
Trainers:
ROBERSON MAGALHAES – Co-Founder
SACHIKO KATAOKA – Head of Training
Nearby Accomodation:
Livotel Hotel
333 Soi Phaholyothin 34, Phaholyothin Road
Sena Nikhom, Chatuchak
Bangkok, Thailand 10900
02-941-9904
Sky Dome Hotel
114 Prasertmanukij Road
Jorakhae Bua, Ladphroa
Bangkok, Thailand 10230
02-000-7222
Closest Airport: Don Mueang Airport
Date: Sat- Sun, 10-11 Aug 2019
Day 1:
Check-in: 08:00
Start Time: 09:00
End Time: 17:00
Day 2:
Start Time: 09:00
End Time: 17:00
For any further questions, please do not hesitate to contact us at:
chakaboominfo@gmail.com
I look forward to seeing you!
Roberson Magalhaes
COSTS INCLUDE:
Chakaboom® Basic Instructor Manual
Certificate of Participation